Event Space & Meeting Rooms
Our conference rooms and event spaces offer an inspiring environment for your professional meetings, atmospheric events or encouraging team sessions. Short-up breathes a fresh air of innovation into your meetings and helps you think outside the box to bring something new into the world.
Baumraum
Belfortstraße
30 persons (80m²)
The Baumraum is the former guest room of the Grünhof restaurant and has many a story to tell. During the day, our community members work here, which is why it can only be booked from 7:00 pm on Mondays to Fridays. On weekends it can be rented all day for seminars, lectures and workshops.
Included:
projector, flipchart, metaplan board, presentation box
On request:
Alternative seating for workshops & lectures
Member discount:
50%
Café POW & Baumraum
Belfortstraße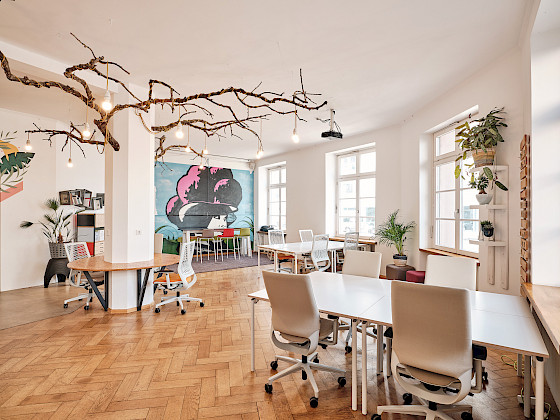 30-80 persons
Café POW can be rented for private and for business events together with the Baumraum. The beautiful courtyard can be used during the opening hours of the café. We will be happy to reserve seats in the courtyard for you and your guests. The interior of the POW can also be used for parties outside of regular opening hours. Café POW and Baumraum can only be rented together and in connection with a service person from the POW team.
Included:
sound system, fridge, dishes & glasses
On request:
catering, special drinks
Member discount:
yes
Pläuschchen
Belfortstraße
5 persons (20m²)
The Pläuschchen is our most booked seminar and meeting room and suitable for up to 5 people. It is located at our site at Belfortstraße 52, only a 4 minute walk from the main station.
Included:
projector (HDMI), whiteboard, flipchart, projection screen
On request:
metaplan board, presentation box
Member discount:
50%